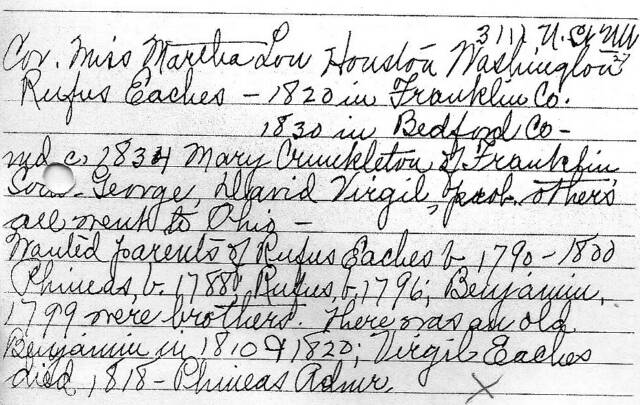 Ask almost any Eachus researcher who the wife of Rufus was and almost without a doubt they'll answer Mary Crinkleton.  But when asked where that information comes from, very few people know.  I contacted Brian Eachus who runs one of the biggest and best
Eachus website
s that documents the Eachus family from England and the United States.  On a trip to America he stopped in Chester County and found what is believed to be the only known written source about  Mary Crunkleton.  From what I can gather from the card it appears to have been Cor[respondence with] Miss Martha Lou Houston, who appears to have been a genealogist, if she's the same Martha Lou Houston who published books like Indexes to County Wills of South Carolina (compiled by her), Reprint of the Official Register of Land Lottery of Georgia, 1827, and 600 Revolutionary Soldiers Living in Georgia, etc..  With a last name like Houston, and the fact that she had information about the Eachus family,  I'm assuming that she's one of
the
Houstons, (i.e. Rufus Houston Eaches, Virgil Houston Eaches...) who married into the Eachus family. It is pure speculation, but it is believed that Rufus' mother mary may have been a Houston and thus the family name was handed down for a few generations.
However, the problem is that right off I see errors.  For example family stories have always circulated that

Index card from Chester County that states Rufus married Mary.

click for larger image.

Rufus was the son of Benjamin Eachus and his wife
Mary unknown
.
1
  Benjamin appears on the
1810
census Honey Brook, Chester County, Pennsylvania.
2
  In this census record Benjamin has the following slash marks 1 male child 16-25, 1 male aged 45+ (probably himself), and the following females: 1 female less than 10, 1 female 10-15, 1 female16-25, and one aged 26-44 (wife of Benjamin?). 
Heirs of Rufus

Nancy (widow)

Rufus

George

Mariah Smith

John Smith

Virgil

Sarah

Caroline

Malissa

Henry

Thomas

unnamed infant

The said:

Nancy (widow)

Joseph

George

Mariah

John

Virgil

Sarah

-----------

Malissa

Henry

----------

infant

Ordered to Appear in Court

Nancy (widow)

Joseph

George

Mariah

John

Virgil

Sarah

----------

Malissa

Henry

Thomas

---------

I believe that the Rufus was just a mistake for Joseph, since he wasn't mentioned, and clearly was meant to be included.  Caroline?  I've never heard of Rufus having a daughter Caroline, though it is possible.  Caroline was his daughter-in-law's name, though she wouldn't marry into the family for another two years.

Unnamed infant.  It seems clear that there was an infant.  I doubt that the infant, would be required to appear in court if it was truly that young.  The paperwork would have to be written up before the October court in order to get on the schedule, and if there was an infant too young to be named, that would mean that Rufus died very close to the filing.  So once again, the date of June 28, 1846 seems to be very possible.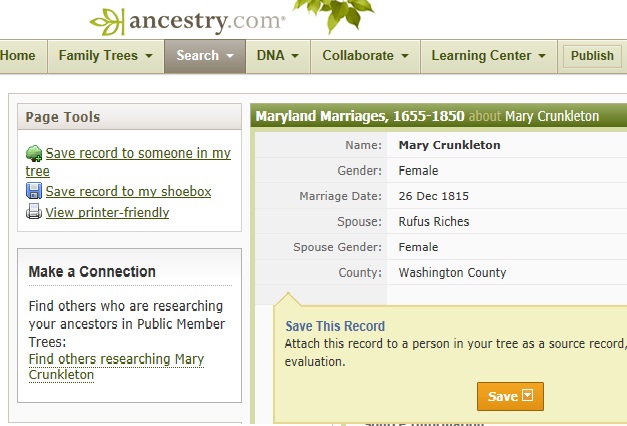 GOTCHA! After 40 years, Dec. 5, 2012!